I'm PC if PC stand for Poor Choice!
OFFLINE

Male
27 years old
Baltimore
United States, Maryland


MY DETAILS
| | |
| --- | --- |
| PERSONALITY TYPE: | Iggy Pop |
| | |
| --- | --- |
| LAST LOGIN: | 02/06/2012 09:04:29 |
Favorite Bands
GG Allin, The Knox, Jonee Earthquake, G.B.H., Circle Jerks, Stiff Little Fingers, Buzzcocks, The Wipers, Amebix, Wolfbrigade, Angry Samoans, The Undertones, The Lurkers, Black Uniforms, DisArm, Midnight Creeps, Abrasive Wheels, Johnny Thunders, The Dead Boys, Caustic Christ, Subhumans, Descendents, The Cramps, Chaos UK, Riot Squad, Funeral Dress, Infa Riot, Antidote, The Varukers, Toxic Narcotic, Cockney Rejects, Sham 69, Discharge,The Acc
used,
Spazz, Acid Reflux, The Actives, Skeptix, Appendix, Anti-product, After the Bombs, Anal Cunt, The F.U.s, Gang Green, Jerrys kids, The Freeze, Duckyboys, Pinkerton Thugs, D.R.I., Misfits, Andrew W.K., Agnostic Front, Attak, Black Flag, Blitz, DI, Fang, Destructors, Devo, Dead Milkmen, Driller Killer, DS 13, Dystopia, Weedeater, English Dogs, External Menace, The Feind, Filth, Final Conflict, The Fits, Gauze, The Germs, Inepsy, Hunx And His Punx, Kaaos, Melt Banana, Mau Maus, The Melvins, Menace, Nausea, Mob 47, Oi Polloi, One Way System, The Partisans, The Plasmatics, Regan Youth, Red Alert, The Queers, The Riffs, Riistetyt, Showcase Showdown, Skitsystem, The stooges, Suicide, The Threats, Tom and Boot Boys, Totalitar, The Trouble, US Bombs, Uproar, Urban Waste, Vice Squad, Vitamin X, Wire, Zero Boys, zounds, 9 Shocks Terror, A Global Threat, Bad Brains, Blanks 77, Clit 45, Confont, Bosstones, toasters, Specials, Madness, Big D and the Kids table, Mindless Self Indulgence The Beatles, Greatful Dead, sage Francis, Atmosphere, S.O.D., The Cure, Elvis Costello, flogging molly,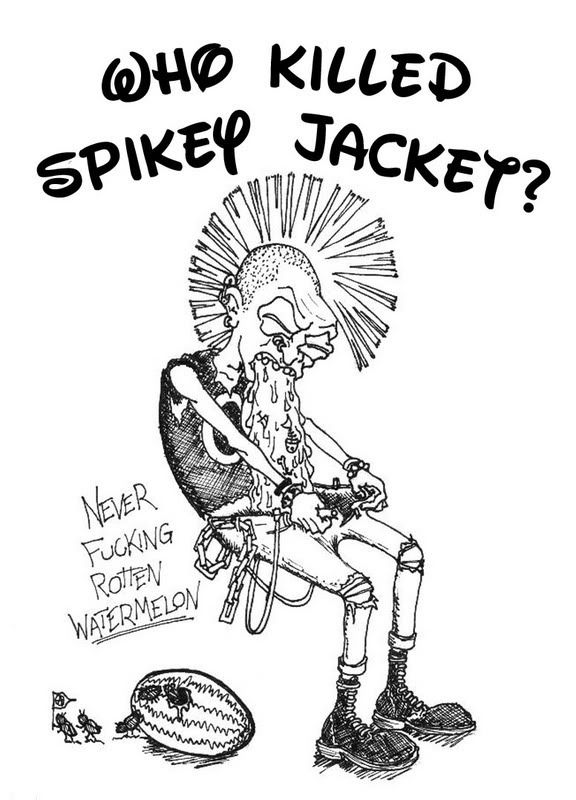 Favorite Venues
Barclay house, Ruintown, Sidebar, and ANY DIY ONES THAT RULE!
Favorite TV Shows
I'd Like to Meet
People who are real people,
Do drugs, Rape people, Kill the innocent
Favorite Books
Hunter S. Thompson, Tom Robbins, Jack Kerouac are some of my favorites.
Favorite Movies
Hot Fuzz, shaun of the dead, Garden State, Fear and loathing in Las Vegas, romper Stomper, fifth Element, American History X, Dazed and Confused, Waking Life, 7, Clerks, Mallrats, Chasing Amy, Dogma, Jay and silent bob strike back, The Princess Bride, shawshank redemption, Yellow submarine, HELP!, Hard Days Night, SLC Punk, Titan A.E., Most of Adam sanders movies, All of Chris Farleys movies, Dumb And Dumber, Blues Brothers, B Horror Movies, PCU, Any Movie made by Stanley kubrik, lots more
HAKUNA MATATA!!!
MY BLOGS
ABOUT ME
Take me for who I am because I am nothing else. People love me and people fucking hate me. I just try to make it each day. never satisfied but Thats just life. so keep it real wit me and I'll keep it real wit you. If your truly my friend I'll die for you. Oh and I fucking LOVE cheese.

Baltimore City is better then where you live.
Interests
Thrashing period
one day Skating this pool
ALL HAIL





MY TOP FRIENDS
Kamikaze Kaos has 322 friend(s)






VIEWING 61 - 70 OUT OF 204 COMMENTS


| | |
| --- | --- |
| | Page: | | | | | 7 | | | | | | |
| | |
| --- | --- |
| | Page: | | | | | 7 | | | | | | |