Eat Your Face : Demo 2008
OFFLINE

Wilson
United States, North Carolina


MY DETAILS
| | |
| --- | --- |
| LAST LOGIN: | 04/02/2009 04:56:07 |
BAND MEMBERS:

JAYMI: VOCALS

BRANDON: BASS

LARRY: GUITAR

JACK: DRUMS
| | |
| --- | --- |
| SOUNDS LIKE: | All of your hopes and dreams being broken. |
| | |
| --- | --- |
| RECORD LABEL: | DO IT YOURSELF |
| | |
| --- | --- |
| TYPE OF LABEL: | DO IT YOURSELF |
MY BLOGS
RECENT VISITORS
BAND BIO
We are simply 4 people having a good time playing music together. We formed in Feb of 2008, and plan on stickin around for a good while. We're not concerned with scenes, trends, or anyone's opinion. We're just making music that we like and enjoying meeting other bands and people. Come check us out, we're nice people.
The songs above were recorded by our good friends Ross and Luke at Stronghold Studios in Statesville, NC for our demo which is now available for $3. The cover art was designed by Heather Scott at Sacred Flames Tattoos.
ORDERING IS DONE THROUGH www.myspace.com/spasticcreeps
TSHIRTS ALL SIZES 10$ SHIPPING COVERED!!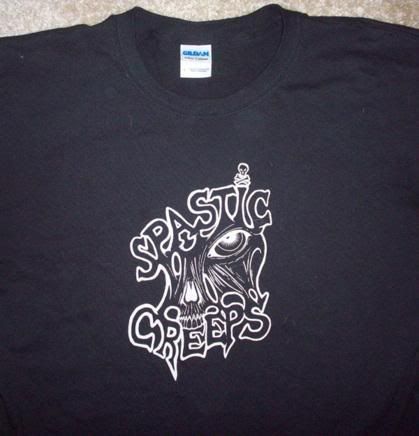 7 SONG - EAT YOUR FACE: DEMO 2008 JUST 3$!!!!!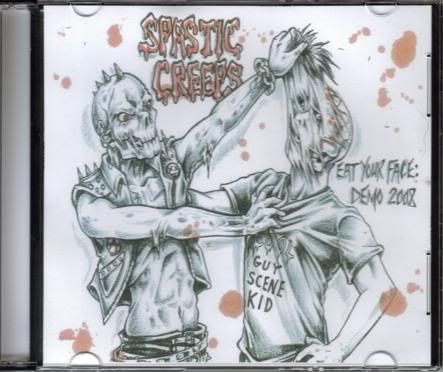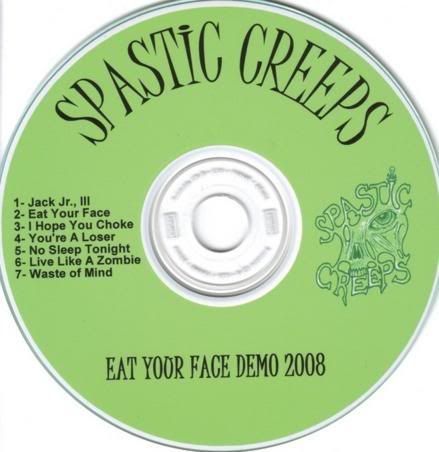 INFLUENCES
Kill The Hippies, Code 13, Spazz, Black Flag, Dystopia, Mob 47, Nausea, Discharge, Antischism, Dead Kennedys, DRI, Motorhead, Darkthrone, Quadiliacha, Dismember, Celtic Frost, Kylesa, Chokehold, Hemdale, C.O.C., Circle Jerks, Iron Maiden, Suicidal Tendencies, Brutal Truth, Action Patrol, Kreator, Quincy Punx, FYP, Vomit Punx, Baphomet, Bananas, Ramones, Hickey, DFL, Naked Aggression, Demonic Christ, Logical Nonsense, Extreme Noise Terror, Wolfbrigade, Tourettes, (old) Megadeth, Obituary, Punky Rockit, Nuclear Assault








MY TOP FRIENDS
Spastic Creeps has 226 friend(s)






VIEWING 1 - 10 OUT OF 45 COMMENTS